Cycling in the West of England
If you haven't ridden a bike in years, or have never cycled at all – we can help you find all the resources you need to ride a bike for commuting, health, fitness and fun. Including, free loan bikes, adult cycle training and trip planning. Run by local councils.
Try our cycle planner
Find a route that suits you!
Need a bike to get started?
Borrow one of our FREE electric, hybrid or folding bikes for up to a month
Find out more
Healthier, faster, more sustainable.
Better by bike.
Plan a bike ride
Simply.
Find the quickest, quietest or most balanced cycle routes and leisure rides around the West of England. Helping you to discover the best way to get around. Powered by CycleStreets.
No need to download, plan a journey now.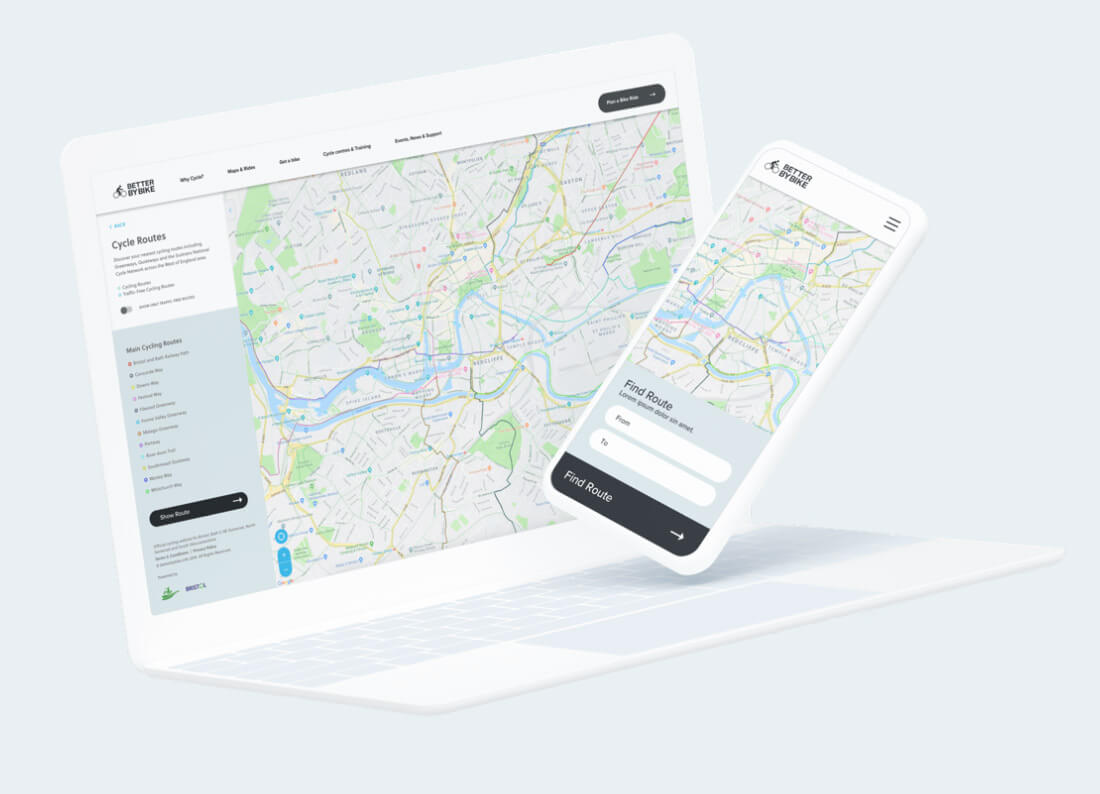 I bike it, I like it!
Get inspired to start cycling or remind yourself about all the wonderful benefits of cycling – from your own health to the positive impact on the environment. Read more about why cycle!
There are 75 Miles of cycling Commuter Routes in Bristol.
Cycle training can significantly improve confidence, as well as safety.
Every day, cycling in Bristol takes up to 28,000 cars off the road.
BikeLife Bristol 2019
28% of Bristol residents cycle at least once a week, 23% don't cycle but would like to
BikeLife Bristol 2019
Franciska
Cycling through The Arches, Bristol.
Kirris
Cycling through Victoria Park, Bristol.
Saskia
Cycling through Guildhall, Bath.
Rachel
Cycling through Portishead.
Discover
Our favourite local rides:
View it on a map, learn more and download printable PDF's..
Join us
at cycling events
There are many local cycling events, find one for yourself and enjoy!
Events for everyone
For children
Learn to ride, open sessions and organised events for all the family.
Charity rides
Take on the challenge of a longer distance ride with others.
Social events
Discover local cycling activities to meet other people who like to ride
Explore
ways to get a bike
There are so many ways to get a bike, discover one that suits you best.
Get confidence
visit a cycling centre
Discover charities and organisations with a range of specially adapted bikes and training sessions aimed at a wide range of people to help get back on a bike!
Cycle training for adults
Getting back on a bike can be daunting at first, which is why we can help with on road adult cycle training and accompanied rides to give you the skills and confidence to ride a bike on busy urban and rural roads.