The group behind the annual Cycle Sunday event on the Downs have launched a public consultation on their proposal for a Downs Loop.
The proposal has been co-developed with the charity Greenways and Cycleroutes and includes:
A zebra crossing on Stoke Road near the Water Tower to improve access to the Downs.
Accessible paths from Stoke Road to the Sea Walls. Some of this will be built on an existing well trodden route over the grass. There will also be a new path to replace the narrow and uneven one alongside Ladies Mile. The paths will be 3m wide and designed to be wheelchair, buggy, scooter and bike friendly.
Traffic calming along Circular Road. This will take the form of speed tables that are designed as continuous raised crossings. A slower pace will make the area safer for all users including motorists once they have parked their cars and are continuing on foot.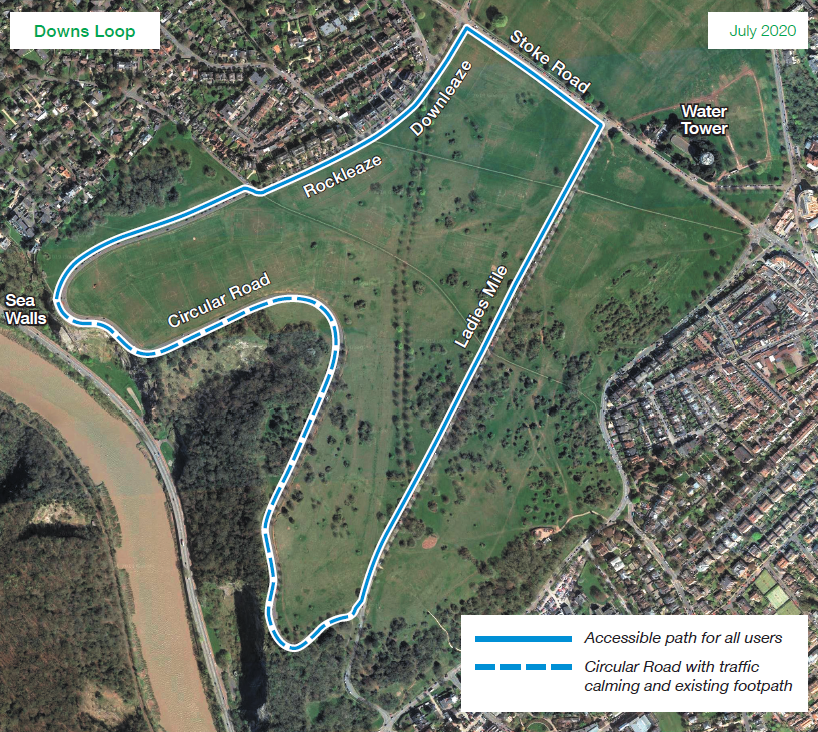 Vicki Cracknell, who set up Cycle Sunday in 2015 said
We've spent a lot of time designing this route keeping everyone who uses the Downs in mind. This means there is a strong element of compromise in this proposal.

With its 400 acres of beautiful flat parkland, the Downs is such a special place. By creating accessible paths for leisure and exercise and encouraging considerate use of them, many more people could enjoy the area.
Asked about where the proposals originated she added,
Since 2015, over 3,000 families and less confident cyclists have come to Cycle Sunday events to safely explore the Downs
by bike.

Our events have demonstrated a huge interest in cycling around the Downs. That's where we started from, but this is about more than just helping children learn to cycle.

We are looking for a solution that provides a smooth, even surface that would mean that people could arrive by bus at Stoke Road and get all the way to the Sea Walls in a
wheelchair or pushing a buggy.

We hope that, during the consultation, people will remember that everyone should be able to access the Downs, whatever their age or level of fitness.

We are delighted that the Downs Committee has given us approval to move to the next stage of public consultation.
Robyn Strange who has participated in several Cycle Sunday events said,
Children need to feel safe on their bikes, they need to enjoy it. Parents should not feel stressed because of cars and other dangers on the road when cycling with their children.

Cycling is something for everyone to enjoy and that is why this is so important.
Eleanor Hewitt adds,
I am a keen cyclist who lives locally to the Downs. I also use a
wheelchair so feel an accessible path is a much needed amenity for everyone to enjoy the Downs area and its natural beauty.

There are many and varied uses for the proposed path and I am fully in support of the benefits for all.
The plans state that the paths will have a 'natural look in keeping with the landscape' and if the proposal is successful, then the group will approach large charitable foundations for funding.
The public are being asked to comment throughout August and September and the full proposals can be found The Downs Loop website
Link to The Downs Loop website
Main photo by Chrissie Decker